Vbox : Global Network Connections
VBOX : THE PORTABLE SECURE NETWORK SOLUTION
The VBOX solution enables easy deployment of a reliable and secure, Temporary Network Connectivity. The VBOX solution is an internationally traded product and Managed service which provides virtual Ethernet cables around the Globe enabling:-
Ethernet capable machines/systems to integrate seamlessly from locations anywhere

in the world

as if they were on the same physical LAN network – without necessarily tapping into the corporate IT network.
Use of exisiting Network Private IP addresses Default gateways - no reconfiguration of systems required.
Two or more VBOX units (housed in protective briefcases) are paired together to provide a private virtual Layer 2 network allowing integration of systems across the Globle.
Connectivity using:-

existing Corporate or Guest WiFi/LAN

supplied 3G Modem (SIM subscription required)




your Smart phone's Hotspot feature
Lights Out Remote Support using the VBOX Optima premium product
The VBOX solution has been successfully adopted by multi-national Pharmaceutical manufacturers in Ireland to enable Project Vendors/integrators (in Geographically different locations) to seemlessly verify interfaces between subsystems as if they were located in the same physical location/LAN before each subsystem is delivered to the Customer site as an integrated Line/system.
It gives the Customer and Vendors the flexibility and confidence to troubleshoot potential issues before delivery to site.
Vendors in Germany, Switzerland, Italy and the USA have benefited from the VBOX service.
Do you need Secure Flexible Global Connectivity ?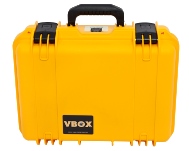 In an ideal world if you are a Project, Automation or IT Manager you want:-
Pre-Systems Acceptance Testing
To provide Temporary, Secure Connectivity allowing accelerated pre-SAT testing of multi-vendor systems even in different geographical locations !
To iron out potential integration issues with these systems before they get delivered to the Customer Site.
Read more: Do you need Secure Flexible Global Connectivity ?
The VBOX Trio Solution -

Secure Virtual Network Connection
The VBOX Trio solution offers a choice of 3 Products to suit individual requirements:-
Each allows authorised secure access to monitor, control and seemlessly integrate any Ethernet enabled devices connected to a paired VBOX SET* anywhere in the world.
The devices will act as if they are all on the same private LAN. The VBOX enables Ethernet Cables to be virtually stretched around the globe. Additionally, the VBOX Optima facilitates Lights Out Remote Support.
So, what's in it for you ?

Easy to use
Portable - Choice of 3 products
Secure – Authenticated SSL Certified connections from preconfigured VBOX units
Lower Vendor Costs - Reduced Vendor support costs
Leased Service - No capital investment
Software - No additional software required
Re-configuration - No systems re-configuration required
The VBOX product has been exclusively designed to meet the needs of the Pharmaceutical, Medical Device, Food Sector and Utilities Sector.
Areas of Application:-